A Collection of Model T CarToons
Here is a recent Dilbert cartoon, for what it's worth!"

Here are a couple of strips of Gasoline Alley from 1921. Walt is looking to purchase a car and seems the buying cars in those days was not that much different than today. I'll post a weeks worth of strips over the next few weeks, hope you enjoy them. Many of these images are from the Ohio State Library of Cartoons. Other Model T cartoons are from the Milwaukee Journal.
January 8, 1921 - Avery's Cigar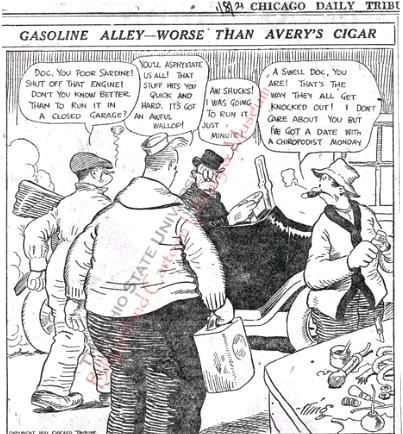 January 3, 1921 - On the Wagon
January 4, 1921 - The Movies

February 22, 1921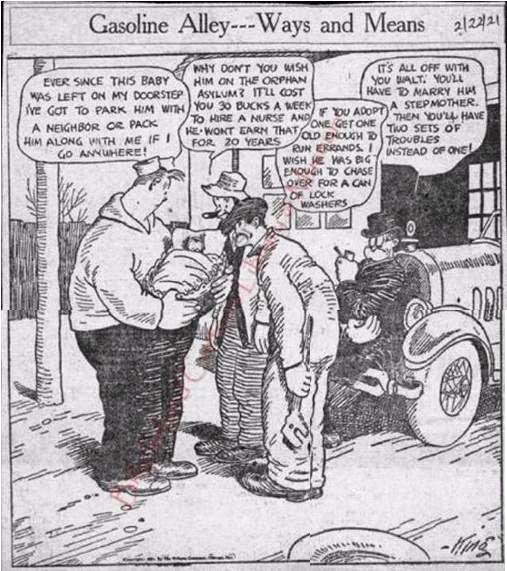 February 12, 1921

February 8, 1921

She's a swell new bus Walt!. I wish I had one like it!. Isn't she a bird!
				What's matter? What you stopping for? Confound these careless drivers!
						Is it serious, Walt! Serious? I'll say it is!
							That car that passed spattered a spot of muddy water on my hood!
February 7, 1921

February 5, 1921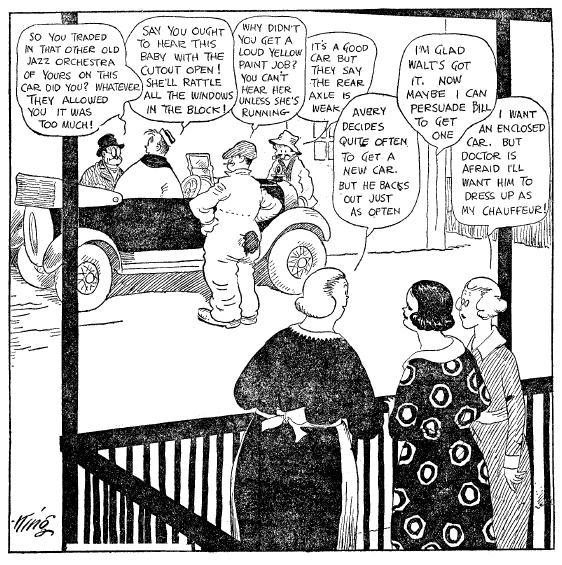 February 4, 1921

February 3, 1921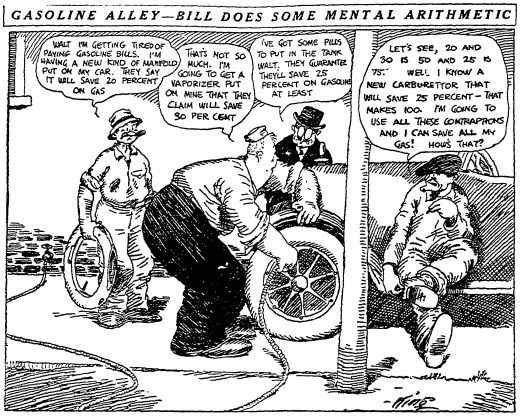 Gasoline Alley is a comic strip started in 1918 in the Chicago Tribune. Walt Wallet, the main character liked to talk about cars. Sometimes Model T terms appeared. Here the group is talking about fuel economy. Walt wants to install a vaporizor to save gas. Seems that if all the options were installed the car would not use any gas.
The discussion is a little hard to read, so here it is, left to right.
(Avery)Walt, I'm getting tired of paying gasoline bills. I'm having a new kind of manifold put on my car. They say it will save 20 percent on Gas.
(Walt)That's not so much. I'm going to get a Vaporizor put on mine that they claim will save 30 percent.
(Doc)I've got some pills to put in the tank. Walt, they gaurantee they'll save 25 percent on gasoline at least.
(Bill)Let's see, 20 and 30 is 50 and 25 is 75. Well, I know a new carburator that will save 25 percent, that makes 100 percent. I'm going to use all these contraptions and I can save all my gas. How's That?